Home Theater
Of all the types of installations we provide, home theater creates the most enthusiasm and enjoyment. After designing a layout of the placement of TV and surround speakers, anxious homeowners await completion.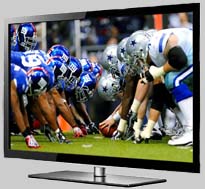 Systems are designed for optimum sound and viewing in each application. Speakers are custom wired and installed back to the components location. We utilize various types of high quality speakers from round to rectangular recessed in-walls to bracket-mount satellite speakers. HDTV feed wiring is installed to the TV location. We provide and make custom length HDTV cables. If required, we may utilize infrared remote repeaters and universal remote controls. Not to be forgotten, high powered subwoofer is also installed. Before completion, all wiring of speakers and HDTV feeds is connected to audio/video components and programmed for optimum performance.

Now gather the family and some popcorn…it's finally time to enjoy your personal home theater!